Mathematical Immanence (2022) se proyecta como una videoinstalación compuesta por cuatro pantallas y 20 planchas de metacrilato suspendidas del techo.
Las cuatro pantallas reproducen el baile flamenco de Paco Hidalgo ejecutado en un espacio monocromo verde donde se suspenden del techo los mismos metacrilatos expuestos en la videoinstalación. Las planchas de metacrilato, tanto de la videoinstalación final como las utilizadas en el escenario monocromo verde donde se ejecuta la pieza flamenca, simulan los patrones de las varillas armónicas utilizadas en la construcción de las guitarras flamencas.
Paco Hidalgo altera su actuación en determinados momentos mediante silencios musicales, repeticiones motoras, sustituciones de letras y demás recursos retóricos, con al ayuda de lo que he concebido como imagen estroboscópica para acentuar la manifestación de la apraxia motora y la afasia de Wernicke. Además, a medida que avanza la pieza de baile, el bailaor interactúa con las planchas de metacrilato suspendidas del techo. Estos patrones armónicos se reconstruyen en el espacio a través de las planchas de metacrilato dependiendo de la perspectiva de la cámara y se deconstruyen en los movimientos secuenciales de la misma.
Mathematical Immanence (2022) is projected as a video installation composed of four screens and 20 methacrylate plates suspended from the ceiling.
The four screens reproduce Paco Hidalgo's flamenco dance performed in a green monochrome space where the same methacrylates exposed in the video installation are suspended from the ceiling. The methacrylate plates, both in the final video installation and those used in the green monochrome stage where the flamenco piece is performed, simulate the patterns of the harmonic rods used in the construction of flamenco guitars.
Paco Hidalgo alters his performance at certain moments by means of musical silences, motor repetitions, letter substitutions and other rhetorical devices, with the help of what I have conceived as a stroboscopic image to accentuate the manifestation of motor apraxia and Wernicke's aphasia. In addition, as the dance piece progresses, the dancer interacts with the methacrylate plates suspended from the ceiling. These harmonic patterns are reconstructed in space through the methacrylate plates depending on the perspective of the camera and deconstructed in the sequential movements of the camera.
MATHEMATICAL IMMANENCE (2022)
- Video digital monocanal.. Color y sonido. 14' 59".
- Single channel digital video. Color and sound. 14' 59". Link (excerpt):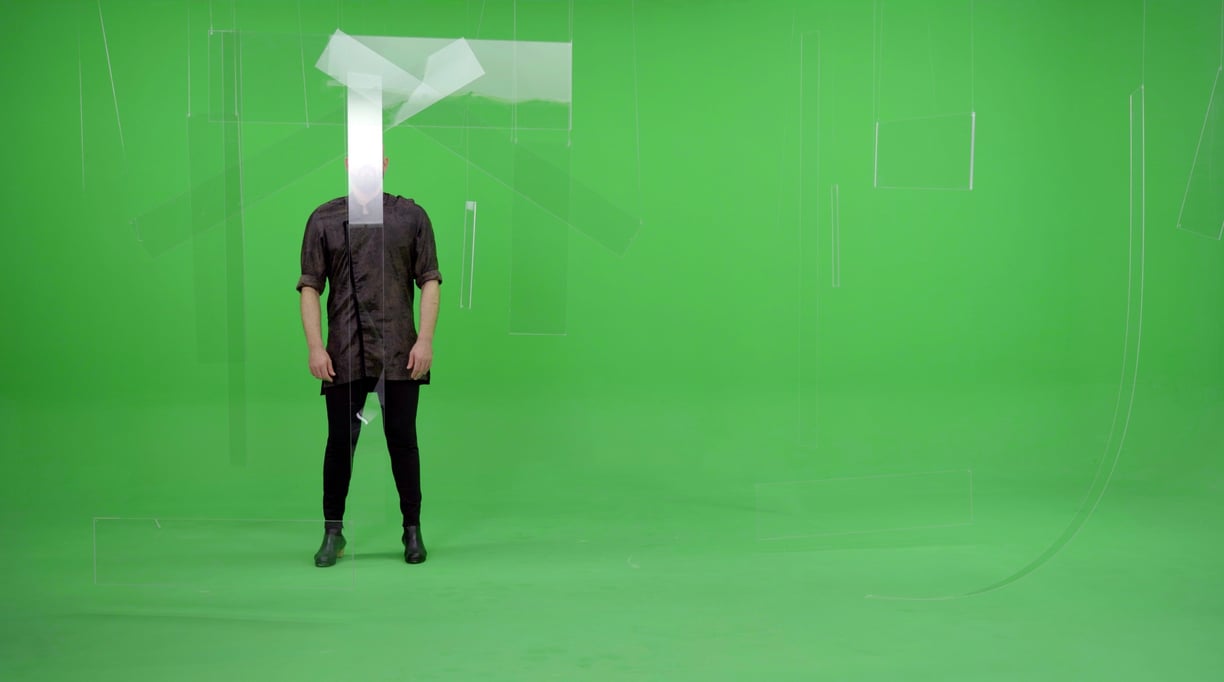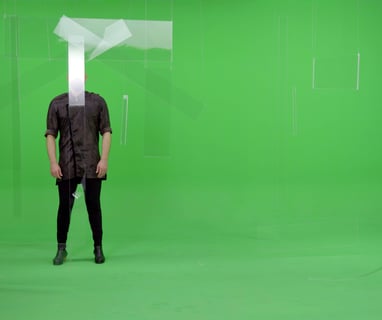 Investigación
Mathematical Immanence se concibe como la tercera pieza de una serie de trabajos relacionados con las patologías neuronales huérfanas -poco comunes-. Esta serie de piezas artísticas plantea cuestiones relacionadas con la universalidad del ser humano a partir de ciertas alteraciones en la percepción derivadas de variaciones neuronales en el sistema nervioso central.
Mathematical Immanence continúa con la exploración de estos dos conceptos en la fenomenología de la apraxia motora y la afasia de Wernicke. Estas alteraciones neurológicas se caracterizan por la pérdida de la capacidad de llevar a cabo acciones concretas a pesar de tener el deseo y la habilidad para hacerlas. La apraxia motora produce una disociación entre la idea a realizar y su ejecución motora. La afasia de Wernicke produce una disociación entre la idea a verbalizar y su ejecución hablada. En ocasiones se verbalizan palabras o frases carentes de significado que no atienden a los deseos de quien las ejecuta.
Gracias a este tipo de alteraciones neuronales causadas por diferentes motivos -como un daño en uno de los lóbulos del cerebro- podemos comprender procesos en la construcción de nuestra experiencia de una forma universal. Estas manifestaciones podrían concebirse como acentuaciones en la construcción de nuestra percepción. Y es que, en cierta manera, todas las personas padecemos cierto grado -o grado zero- de apraxia y afasia, manifestada en la incapacidad de interpretar procesos aprendidos y memorizados o de reemplazarlos gracias al olvido selectivo, la predicción de información y el reemplazo de significantes verbales en la comunicación.
Research
Mathematical Immanence is conceived as the third piece of a series of works related to orphan neuronal pathologies. This series of artistic pieces raises questions related to the universality of the human being based on certain alterations in perception derived from neuronal variations in the central nervous system.
Mathematical Immanence continues with the exploration of these two concepts in the phenomenology of motor apraxia and Wernicke's aphasia. These neurological disorders are characterized by the loss of the ability to perform specific actions despite having the desire and ability to do them. Motor apraxia produces a dissociation between the idea to be performed and its motor execution. Wernicke's aphasia produces a dissociation between the idea to verbalize and its spoken execution. Sometimes words or phrases lacking meaning are verbalized that do not attend to the wishes of the person who executes them.
Thanks to this type of neuronal alterations caused by different reasons -such as a damage in one of the lobes of the brain- we can understand processes in the construction of our experience in a universal way. These manifestations could be conceived as accentuations in the construction of our perception. And the fact is that, in a certain way, all people suffer from a certain degree -or zero degree- of apraxia and aphasia, manifested in the inability to interpret learned and memorized processes or to replace them thanks to selective forgetting, information prediction and the replacement of verbal signifiers in communication.